Semiconductor / High-tech manufacturing Big Data Service Platform based on SEMI Std. EDA
Data Collection Service Platform Based On SEMI EDA
INFINI∞A ™ is a platform for data collection and analysis with compliance to the SEMI EDA Standard (Interface A).
It enables equipment fine data collection (less than 10Hz) and overcomes the limit of SECS communication channel.
And it supports the construction of manufacturing big data analysis infrastructure according to the evolution of process technology.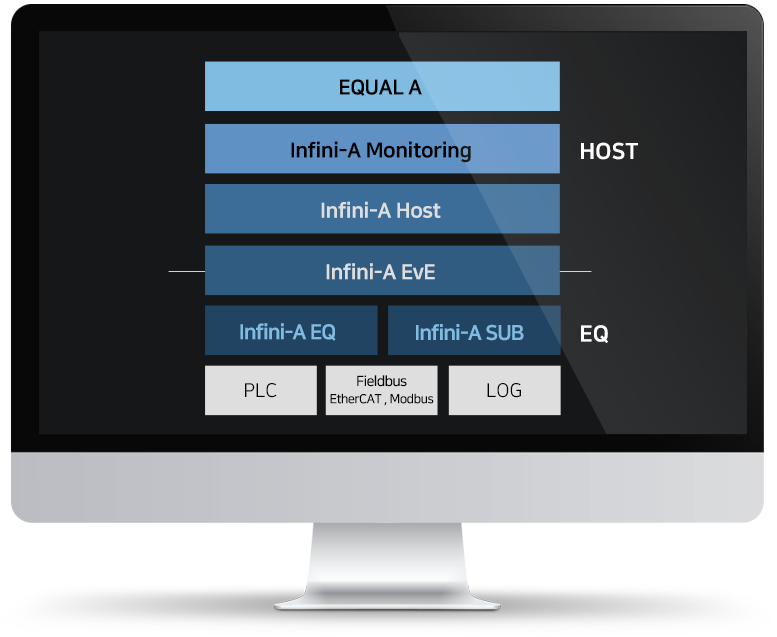 Ensured solution stability
/ The Host solution has achieved stability with a successful set-up in the world's largest production line.
/ The Server solution has been verified in the world's largest production line by applying it to various equipment supplier and equipment models.

Technical leadership
/ As Co-Chair of SEMI Standard Technical Committee, we will discuss international standards,We are contributing to the improvement of international competitiveness of semiconductors and related industries such as standardization of standard documents.
/ Based on our successful project execution experience with EDA Freeze.2, we are leading the standard for Freeze.3.

EDA Total Solution Provider [Infini∞A™ : Data Service Platform based on SEMI EDA Standard]
| | |
| --- | --- |
| | EDA Client (Host) Suite for Semiconductor IC Maker |
| | |
| --- | --- |
| | EDA Server Suite for Semiconductor Equipment Suppliers |
| | |
| --- | --- |
| | Process resource management and DCP / Session Monitoring Tool |
/ Supplied to domestic major equipment manufacturers and applied production line so that it has been verified.
/ Server solution for various sub-component EDA standard